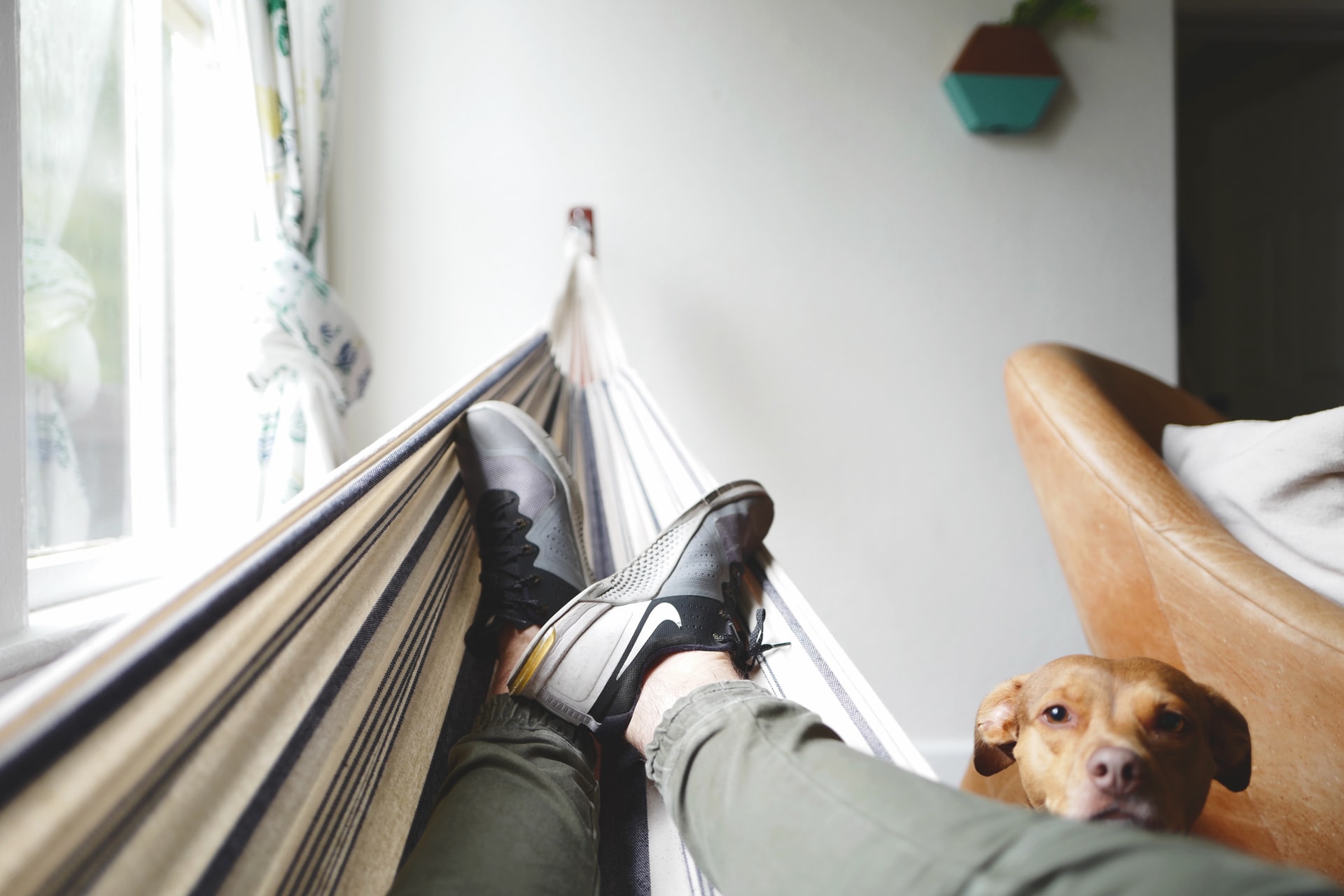 The second KD anniversary (and mid year retrospect)
Welcome to the 54th issue of the Knowledge•Day newsletter. Look at the date. Does it mean anything? (See below for what's special about today)
This shows up as a surprise? Where are the previous issues? Where did Knowledge•Day hide all this while? Were the emails landing in the spam folder? The answer is I haven't posted a single Knowledge•Day newsletter in the past few months. The last issue was sent in February.
I had to redirect my efforts away from writing for some time. I'm a software engineer and I was prepping for a job switch. (Well not exactly brushing up my programming skills constantly for the past 3 months. But it's easy to put off things that require effort. It's very comforting, and it's not like I owe anything by doing that. It's good to take breaks.)
Two years ago on this day, some 19 people received a newsletter titled "Good Guy Cannabis", the first-ever Knowledge•Day article. The same topic that got me into writing.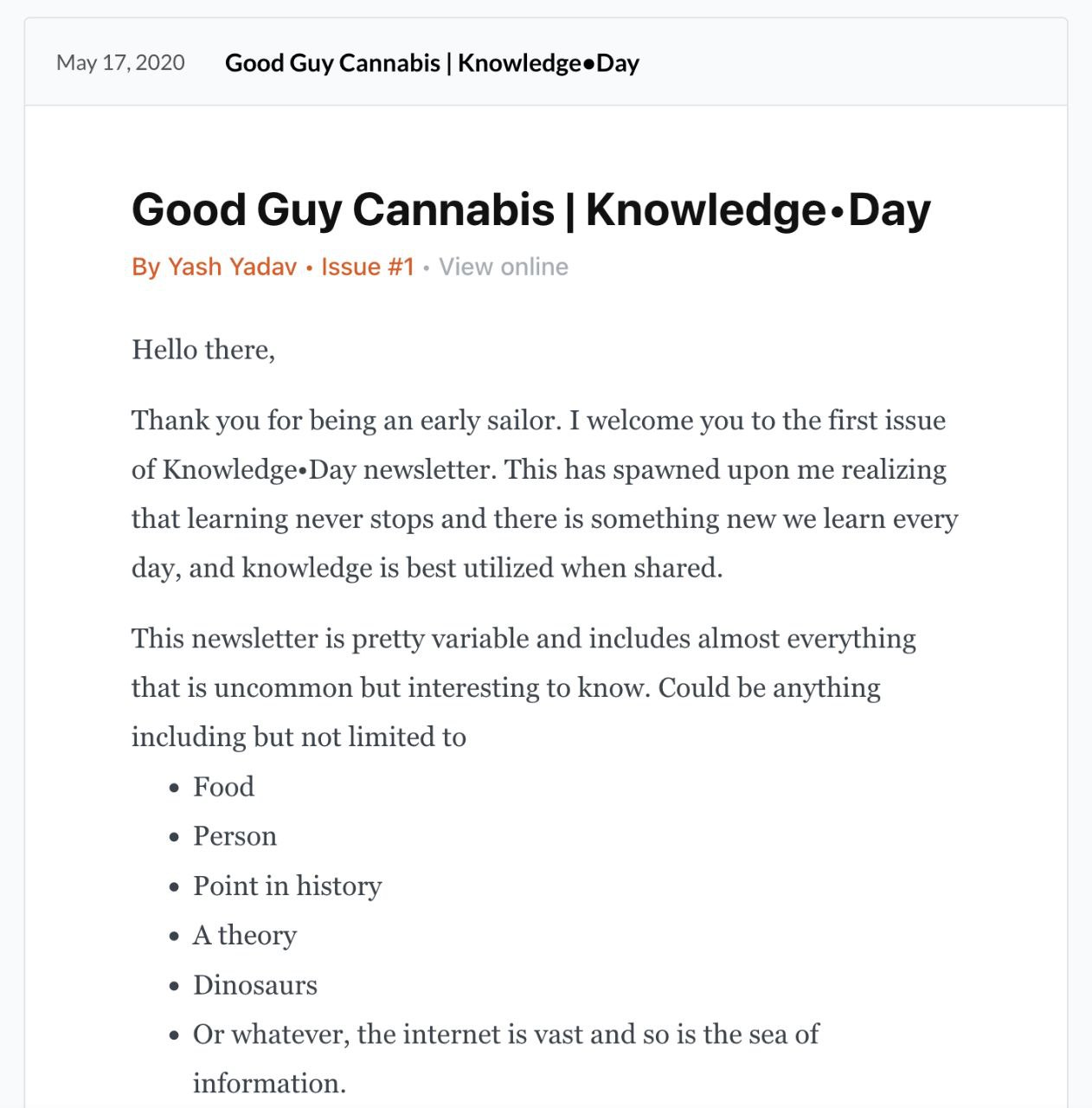 It looked something like this (Click the image to read in full)
and I'm here to utilize the second anniversary to talk, and retrospect. This isn't your regular KD newsletter. The first-anniversary version wasn't either.
Today, this newsletter is being sent to 78 subscribers. That number is considered a joke for a two-year-old newsletter, but I'm happy you sat with me and supported me. And I'm thankful if you've shared this newsletter with at least one friend. Joining along is entirely their own choice, but your efforts matter. They make my efforts mean something. Thank you for that. If we haven't ever talked, this is a fine time to reply to this email and let me know. I'd at least like to know where you're from or what's your favorite thing to eat. :)
(You can also reply if we know each other, I'd still of course talk.)
Now that's that. I don't have any more stats beyond that number of people this gets delivered to. I don't have email open receipts, your location of reading, your gender, or anything. Just the name. So if you wanna let me know you've read this email but don't want to talk, then just click either of the like/dislike button on the bottom of the email. That's the only other way for me to know someone is reading the email.
Aright, with that aside. I don't want to bore you with any more gratitude. Today marks the anniversary of this newsletter, in addition, it also roughly marks the completion of half of this year. (Man that was quick).
and I plan to retrospect the first email I sent this year which was all about planning the year. If you had read that, I assume you created a plan for yourself as well, or some goals maybe.
---
Half year retrospect with Yash
I shared the issue of New Year's plan on 10th Jan, which states 5 pillars around which I planned my year. And also recommended for anyone interested. Let's see where I stand around those pillars.
Family and Relations
Partially as per my plan: I've connected more with some of my friends. I've been mostly at my home but connected with friends more than the previous year. Have understood my sister Vyshnavi better than before, and have been on trips with friends I've traveled with within the past. The experience has been much more delightful, and I'm happy with the way it's going. But it's not all.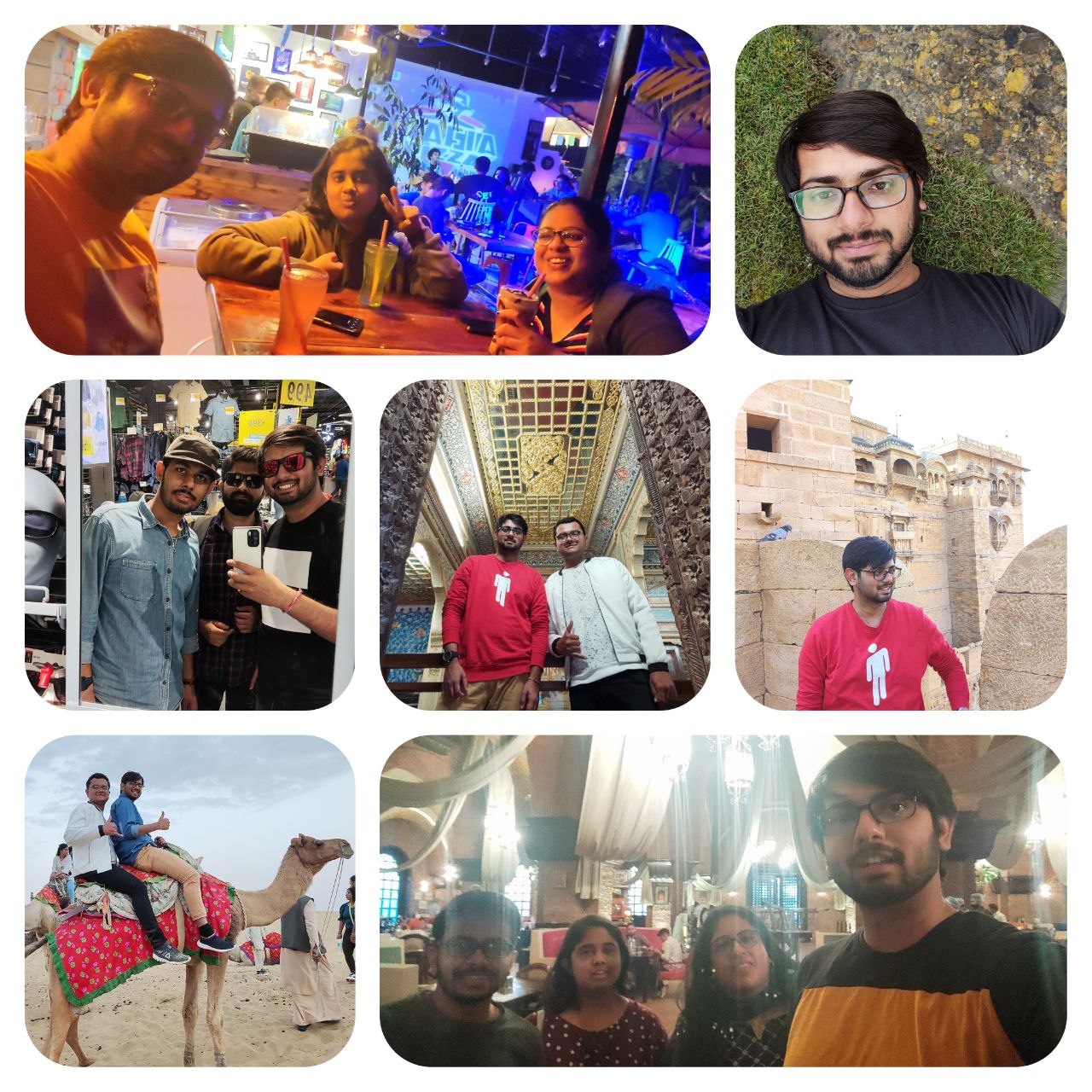 I'm still a passenger when it comes to being in a relationship with anyone. Friendly relationships, of course, I'm single. I've made much lesser outgoing calls lately, I've bugged people much lesser than before. I also have appeared busier to a lot of my friends. I'm sorry if you've felt the same way. I'll try to move up from the passenger seat slowly. I'll try.
Health
Physical Health: Same as that at the start of the year. I still carry the fat I did a couple months before. And just like before I haven't caught any illness yet. My body is just on the better side of health and I don't need doctor visits usually. (3 years and haven't used a penny from my health insurance, hehe)
Mental health: Now this.. has been sliding downhill. Remember I said I took a break from this newsletter for focusing on interview preparation? That takes effort, and that wasn't everything. I also am seeing an increase in work at my current job because some 6-7 people have left our team in the past few months, and not a single new person has joined. About that, Help Systems is hiring, and if you're looking for a Job switch, then reply back we can talk on this as well. As for my initially planned work-free Wednesday evenings and screen-free Sundays, I haven't been following up on that schedule very well. I gotta.
Wealth:
What a bad time to discuss this. The stock market's down, the crypto market's beat up, and I haven't put in efforts to save my money from falling along either. The time's just not good. But the market is not everything I have in plans for this year. I was supposed to look into alternative earning streams for myself, where am I with it? Nowhere. Still gotta reap through my existing investments and look out for future possible investments.
Work:
Time management was my self complaint. It's gotten a bit better I think, but not enough. I'll try to improve further. I also had planned to improve my tenor.cards this year. In reality, I've left it like a dumpster project. It deserves better, it needs more work. I need to replan.
Play:
Well, this has improved. Besides my lack of consistency with "break days", I at least have been slightly more active in relationships with people. The enjoyment hours have slightly improved. I did start this year with active Twitter and Instagram usage, but that has fallen lately. Good or bad I don't know but I've certainly had a few trips with friends which helped with my mood too.
Overall I think I've done average. There's a lot of room for improvement and a good amount of things to keep consistent as they are currently going. I will end it better than last, I'm positive of that.
---
So, what do you think of your year so far? Going good? Bad? Meh? Let me know.
Oh, and about this newsletter. I intend to keep it running as it was running before the break. That is a Knowledge•Day issue on the 10th of each month and a Knowledge•Day TiLT issue on the 25th of each month. Starting June. Let's see how it goes. I'm not gonna stress this too much though. I frankly need more engagement to keep motivated. The last couple of issues have felt like I've been writing into the void. I'd love some feedback or comments.
---
---
Alrighty, that was it for this KD issue.
You know you're reading this on the website, and you could get this sent through the mail as well?
There's also a special version of Knowledge•Day called the KD TiLT which is only sent to the subscribers. You don't waana miss that.
How to Subscribe?